See TOWNSVILLE FRAUD LINK to CORAL & HUGH McVEAN
See TOWNSVILLE FRAUD LINK to CORAL & HUGH McVEAN
JEFF PASCOE, Barry Thompson, Barry Stanton, James Pascoe, Adrian Pascoe at Colliers International, Colliers International, Rocky Springs Rural Pty Ltd, Lancashire General Investment Pty Ltd, Lord Sam `Spam' Vesty of the UK's Vesty Group, Rocky Springs satellite city, Rotary International, Richard Ferry, Rita Partlett &
.
The TOWNSVILLE FRAUD CONNECTION.
PHOTO:
re 'Rocky Springs' and
Jeff Pascoe
[right],
Richard Ferry
, [2nd from left]
.



Full Description of Forum



The McVean FRAUD TRIO, that is brother John Alexander Francis McVean, Hugh Douglas McVean & Coral Louise McVean nee Mathews ALL HAIL from TOWNSVILLE.



This expose is built upon a simple proposition of Social Dynamics: How & why people form friendships & associations.



The connection is simple. Hugh McVean & Coral Louise McVean nee Mathews are FRAUDULENT CRIMINALS, in an AGGRAVATED MANNER. In the 1960's & 1970's, Jeff Pascoe was one of their 'BEST FRIENDS' in Townsville, as were Barry Stanton & Barry Thompson.

Hugh McVean's conduct in Townsville during that time was neither secretive or concealed. Hugh McVean & Coral & Hugh's brother John McVean engaged in Insurance FRAUD in Townsville during this time. See the Map & recent photo of the SITE of the McVean's Townsville Insurance FRAUD.

We are not alleging that anyone mentioned HERE, apart from the three McVeans detailed, are guilty of any criminal offences.

SEE WHAT I PLAN TO DO ABOUT IT!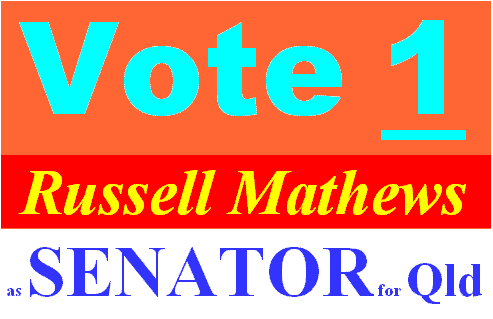 CLICK on image => My Election HOMEPAGE



Russell G H Mathews

BCom BSc LLB BA


View list of my WEBSITES & Bulletin Boards
Email: http://HaigReport.com/eml.html
Hugh McVean is a parasitic psychopath, is from a criminal family, has a long criminal history and inculcated his innocent naive wife into criminal conduct.

This close group of 'friends' included Hugh McVean, Barry Stanton, Jeff Pascoe, Barry Thompson, Peter Cave and Coral McVean. Prior to this publication, we have only really publicly linked Barry Stanton of this group to Hughie 'Mr Hanky', Hugh McVean. We know that Barry Stanton is not particularly pleased with the publicity.
'BARRY STANTON - NOT HAPPY'


The 'Rocky Springs satellite city' was set to be developed on a 1594ha of grazing land off the Bruce Highway near Serene Valley owned by Rocky Springs Rural Pty Ltd and Lancashire General Investment Pty Ltd. The area is between Julago and Alligator Creek and has the Postcode of 4811.

Rocky Springs Rural is controlled by directors Richard Ferry, Jeff Pascoe and Rita Partlett, while Lancashire is owned by Lord Sam `Spam' Vesty of the UK's Vesty Group.